What's on the radar this week? Avett Bros + After Hours + Chicago! We've handpicked the best events in Lou below just for you, who are New2Lou. Looking for more great events around town? Head over to our New2Lou event calendar and give us a follow on Facebook, Twitter, and Instagram. We'll connect you to other great new folks, hot new events, and awesome community orgs.
Wednesday (1/17) Against the Grain Presents the Local Line Up Forecastle Edition – Plans tonight? You do now. Head to Mercury Ballroom tonight for an incredible music lineup featuring Bite My Wire (Doors Tribute band), Good Fellas (Ramones Tribute band) and Boy Toy Division (Joy Division Tribute band). Also enjoy exclusive Forecastle Festival promotions & giveaways. Show starts at 8:00 PM. Tickets start at $15.
Thursday (1/18) – Saturday (1/20) An Evening with the Avett Brothers – Not one, not two, but three nights with the Avett Brothers at the Louisville Palace this weekend. Tickets start at $59 and are still available for Thursday. The other nights are already sold out, so if you want to go, you best get on it. Doors open at 7:00 PM, show starts at 8:00 PM.
Friday (1/19) After Hours at the Speed – Night at the museum?!? Yes, but without the dinosaur please. Experience the Speed Art Museum like you've never experienced it before. This Friday night the Museum will come alive with an eclectic mix of music, performances, cash bar, food by Wiltshire at the Speed, and of course art! Party starts at 6:00 PM. Admission is FREE for members / $12 non-members.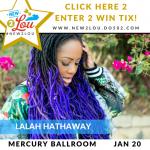 Saturday (1/20) Lalah Hathaway – Lalah Hathaway, R&B/Soul singer from Chicago, has finally arrived and will be singing a "song to you" at Mercury Ballroom this Saturday, January 20th! Doors open at 7:00 PM, show starts at 8:00 PM. Tickets start at $25. Want to go to the show? We can help. Enter to win a pair of tickets at new2lou.do502.com. Good luck!
Sunday (1/21) Louisville Women's Rally – This Sunday marks the one year anniversary of the Women's Marches and Rallies which followed the Inauguration around the nation. This Sunday, Louisville will host our very own rally at the Muhammad Ali Center starting at 3:00 PM. Free event. BYO hat and sign. All welcome.
On the Radar
Tuesday (1/23) – Sunday (1/28) Chicago – There's never been a better time to experience Chicago, Broadway's award winning and razzle-dazzle smash hit. Catch this sensational tale of sin, corruption and all that jazz, at the Kentucky Center next week. Tickets start at $33. Show runs through Sunday, January 28th. Matinee and evening shows available.
Thursday (1/25) Chippendales 2018: About Last Night Tour – Early notice, but you certainly don't want to miss out. The Chippendales, touring dance troupe known for their male striptease performances (and bow ties), will be performing at the Mercury Ballroom next Thursday, January 25th. Doors open at 8:00 PM, show starts at 9:00 PM. Tickets start at $30. Enter to win a pair of tickets at new2lou.do502.com. Good luck!