Exciting start to the morning huh? Tornado alarms at 4 am? Yep, it's going to be a long day.  Imagine what the cyclocross athletes were thinking. Where in the world are we? Speaking of Cyclo-cross, you do know that the UCI Masters World Cyclo-cross Championships are here in Louisville this weekend? What's cyclo-cross? Well Friend of Lou describes it as "Eight minutes of cycling hell, in 40 seconds flat." Here's a sneak peek.
What's the the radar this week? You mean besides THE World Class Cyclo-cross Championships?  A variety of events, from bourbon to Burlesque.  Looking for more fun events this week?  Check out the links to local calendars on our events page.
Wednesday (1/30) Winter Bourbon Social - Our friends at Bourbon Built are celebrating the launch of their fine Louisville-inspired t-shirts and prints at 15 Ounce Premium Denim in St. Matthews. How do they intend to celebrate? Bourbon of course!  Social starts at 5:30 pm and is free and open to the public.
Wednesday (1/30) WFPK Winter Wednesday - The awesome folks at WFPK  are bringing a little bit of sunshine to the winter season this Wednesday at the Clifton Center.  Featured artists this month are Matt Costa and Joan Shelley. Doors open at 6:30 pm, music starts at 7:30 pm.
Thursday (1/31) -Sunday (2/3) UCI Masters World Cyclo-cross Championships - For the first time ever, the World Cyclo-cross championships will be held outside of Europe, right here in Louisville!  Here's your chance to see top international athletes in action right in your own backyard. Volunteers still needed. Purchase tickets here.
Thursday (1/31) Girlfriend- Opening night of Girlfriend at Actors Theatre, a rock musical about two two teenage boys, one a social outcast, the other the quintessential jock, exploring a summer relationship.  January 30 - February 17, 2013.  If you're New2Actors, you're eligible for a $10 Try Us Out ticket.
Thursday (1/31) Louisville Secret Shows - first ever Secret Show on January 31st, 2013 at a "Secret" location. Follow Louisville Secret Shows on Facebook for location clues. Stellar local bands (Discount Guns, Violet Knives, Mobley, and The Pass) will be performing for only $3. Doors open at 8 pm, music starts at 9 pm.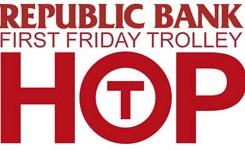 Friday (2/1) First Friday Trolley Hop - free event held downtown on the first Friday of every month. Enjoy live music, beverages and free trolley rides to shops, restaurants and galleries in historic West Main district and trendy NuLu District.
Friday (2/1) Squeeze-Bot and the Midnight Hour Sound System - Squeeze-Bot and the Midnight Hour Sound System return to the Haymarket Whiskey Bar for their spring series every First Friday of the month.  Enjoy great live music and drink specials ($4 Buffalo Trace wells). Music starts at 9:30 pm.
Saturday (2/2) VaVa Valentine 2013 - The VaVa Vixons,  modern day Vaudeville-style Burlesque Variety show, features over 25 beautiful and talented women (and men) performing at Headliners Music Hall.  Tickets $20/ VIP $30. Do0rs open at 7 pm, show starts at 8 pm. Additional shows on February 8, 9, 15 and 16.
Sunday (2/3) Kentucky Stickhorses - Did you know Louisville has a professional Lacrosse team?  Yeah, me either, until recently.  Lacrosse is one of the fastest growing sports in the US and you can watch the Stickhorses live in action this Friday (2/1) at 7 pm and family day on Sunday (2/3) at 1 pm at Freedom Hall. Purchase tickets here.
On the Radar
February 5 PechaKucha Night Louisville - What is PechaKucha? A night of ideas featuring a series of short presentations, 20 slides at 20 seconds each.  This month presenters will share thought-provoking stories about our community at Metro Hall (527 W Jefferson). Doors open at 7 pm, presentations start at 9 pm. Free and open to the public.
February 9 2nd Annual NuLu Valentine Open House - Mark your calendars for the 2nd Annual NuLu Valentine Open house on Saturday (2/9), 10 am to 5 pm. NuLu businesses will be open extended hours and offering specials/discounts and refreshments. Family-friendly and open-to-the-public in the NuLu (East Market) District.
February 16 Year of the Snake Party - Join Louisville Third Century and the Crane House Young Professionals in celebrating the Year of the Snake. Dance, eat, play, and bet from 9:30 pm - 1 am.  Dress to impress. Red and gold cocktail attire is encouraged. Tickets are $20 in advance and $30 at the door.
March 1-3 Startup Weekend Louisville - Ready to test your entrepreneurial skills, pitch your idea(s) and team up with other creative folks here in Louisville? Join the global grassroots movement to learn the basics of founding startups and launching  successful ventures. Register by the end of this month to get the early bird discount.
Have a special event to share in our e-newsletter? Want to sponsor an event or advertise with us? Contact us