It's Wednesday already?!? This week is flying by, but we're not complaining. And there's plenty of great events on the radar this week including: Hackers, Horse Racing, and Hip Hop! We've handpicked the best of the best events this week just for you, who are New2Lou. Looking for more events around town? Check out the local calendars on our events page and give us a follow on Facebook and Twitter, you'll be glad you did.
Wednesday (9/3) JavaScript Hack Night - Any hackers out there? This is your gig. The Louisville Javascript Users Group is hosting a JavaScript Hack Night tonight at iHub. Bring your laptop and hang out, chat, and work on all things JavaScript. RSVP on Meetup.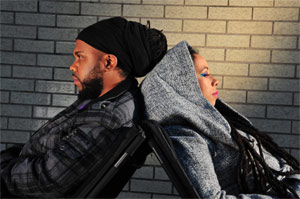 Thursday (9/4) The Mayor's Music and Art Series - free monthly series showcasing local musicians, artists and performers at the Mayor's Gallery in historic Louisville Metro Hall.  Featured artist the month is hip hop artist CPHR DVN (Cypher Divine). Doors open at 11:30 am, music starts at 12:10 pm. Free and open to the public. Bring your lunch.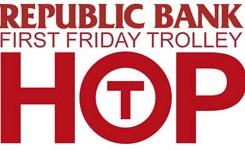 Friday (9/5) First Friday Trolley Hop - free event on the first Friday of every month at the shops, restaurants and galleries in historic West Main district and trendy NuLu District from 5-11 pm.  And while your out and about, check out the new featured exhibition, "I have my moments", at the Green Building. Cool exhibit, cool space and it's free!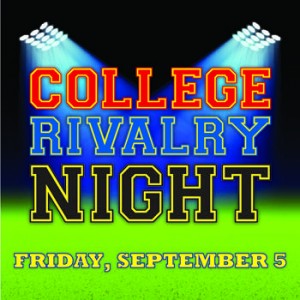 Friday (9/5) Downs After Dark - Downs after Dark is back and we couldn't be more excited! Enjoy a fun night at Churchill Downs with live music, drinks, good friends, and of course racing! General Admission tickets are $10, reserved box seats $20 or $25 for access to the brand new Terrace Lounge. The theme is "College Rivalry Night", so show your school pride by wearing their team colors.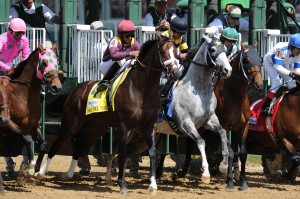 Saturday (9/6) New2HorseRacing 2! - Missed out on New2Horseracing in May? No worries, we got your back. We want you, the newbie, to be well educated with horseracing knowledge so we bring you an encore of New2Horseracing! FREE entry to the word famous track and mix and mingle with Louisville finest newbies, win, win. RSVP today!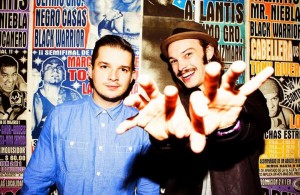 Saturday (9/6) Cherub - Get your Doses and Mimosas on with the electro-pop duo Cherub this Saturday at the Mercury Ballroom in historic SOFO, the South Fourth district. Haven't been, you should. This place rocks it, seriously. Doors open at 8 pm, show starts at 9 pm. And lucky you, tickets are still available.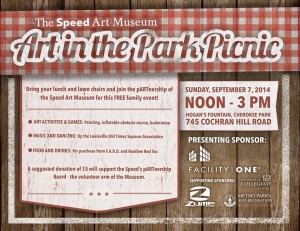 Sunday (9/7) Art in the Park pARTnership Picnic - Join the Speed Art Museum for "Art in the Park Picnic" on Sunday from 12 - 3 pm at Hogan's Fountain in Cherokee Park. Art activities, games, music and square dancing, food and drink for purchase. Free and open to the public.
On the Radar
Wednesday (9/10) New2Lou 2nd Wed Social - Mark your calendars folks to mix and mingle with the coolest new folks in town. This month we'll be at the Kentucky Center, home to many of the city's major arts organizations. Never been to the Kentucky Center? We're here to help. We'll introduce you to cool new people and cool new people. RSVP today!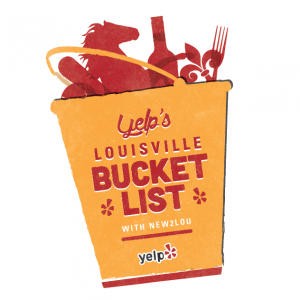 Thursday (9/11) Louisville Bucket List - We're teaming up with Yelp Louisville to bring you the Louisville Bucket List, Derby City dos for those new and old 2 Lou. Next on the List: Bourbon 101 at Evan Williams Bourbon Experience. A must for any resident in bourbon county. Event is free and open to the public. RSVP on the Yelp page.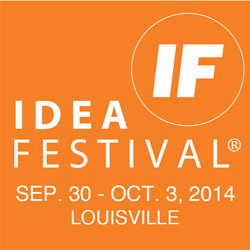 September 30- October 3 IdeaFestival - Mark your calendars for Idea Festival, a 3-day event at the Kentucky Center celebrating innovation, imagination and world-changing ideas. We went last year and it fueled our creativity long after the event, so totally worth it! And we've got a sweet deal for you: New2Lou ticket discount code PAY90.
Want to share a special event, sponsor one our our awesome socials, or advertise with us? Contact us