We're all dragging a bit today after staying up way past our bedtime to hear the election results.  So we'll be brief.  What's on the radar this week? Happy hours, opening night of beloved holiday favorite, and social events to support a good cause.  Find more events by clicking on the local calendars on our events page.
Wednesday (11/7) - Sunday (11/11) New2Lou Survey - And survey says…(always wanted to say that)!  On a serious note, please take a moment to complete our brief survey to help us understand and service your needs as we continue to grow.   Complete the survey by midnight on Sunday (11/11) for a chance to win awesome swag!  More details here.
Wednesday (11/7) Louisville Magazine November Launch Party - Celebrate the launch of Louisville Magazine's latest issue, The Louisville Magazine's School Guide at the Kentucky Science Center (recently changed their name) from 5:30-7:30 pm.  Free appetizers, drink specials, liquid nitrogen ice cream (yep, you heard me right) and free admission to the Science in Play exhibit.
 Thursday (11/8) NightLites Happy Hour - Join the Louisville Orchestra from 4-6 PM at the Theater Square BBC for happy hour specials and door prizes prior to the 6:30 PM NightLites concert, Black Tie & Bluegrass at the Brown Theatre.  We're running a contest today to win tickets on our Facebook and Twitter page, so if you want tix respond to our posts before 5 pm.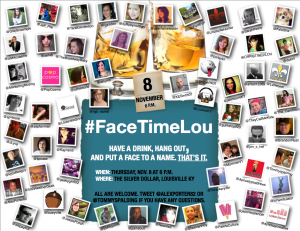 Thursday (11/8) Facetime Lou - Ever  wondered what your twitter BFF really looks like?  Come mingle and drink with the folks you interact with daily on Twitter in person.  Location is the Silver Dollar and time is 6 pm.  BTW our twitter handle is @new2lou.  If you're on Twitter, connect with us.
Friday (11/9) A Christmas story at Actor's Theatre - Opening night for last year's sold out smash hit.  This year is the final season, ending Sunday (11/25), so it's your last chance to see this beloved Christmas film come to life on the stage at Actor's Theatre.  We agree with Actor's on this one: "WE TRIPLE DOG DARE YOU NOT TO MISS IT!"
Friday (11/9) - Sunday (11/11) Festival of Trees & Lights -  Ok, so it's a little too early to start thinking about the holidays, but this is a fun event and for a good cause.  Hundreds of beautifully decorated trees, wreaths and assorted greenery of all sizes fill the interior corridor of Louisville Slugger Field.  All items are available for purchase and benefits go to the Kosair Children's Hospital.
Saturday (11/10) 2012 Annual Edstravaganza - Annual fundraising event for the Thomas Edison House at Whitehall House and Gardens at 7 pm. Cocktails, hors d'oeuvres, and silent auction. Tickets are $50 (group discounts available) and all proceeds go to support day-to-day operations at the Thomas Edison House.
On the Radar
November 12 Cheese & Bourbon Tasting -  Join Bill Samuels Jr. of Maker's Mark and Murray's Cheese cheesemongers for cheese and bourbon pairings in the 21C Hotel atrium gallery.  Tickets are $10 and all proceeds will be donated to Dare to Care Food Bank in Louisville.
November 14 New2Lou 2nd Wed Social – Join us at our monthly social.  Grab a drink, meet new people and try a new place.  Location this month? Z's Oyster Bar (Downtown location). Meet us in the banquet room, look for the New2Lou signs and name tags.
November 17 NuLu Holiday Open House - local retailers and restaurants will be open extended hours and offering specials/discounts and refreshments. Students from Lincoln Elementary Performing Arts School will perform throughout the day along East Market Street. Family-friendly, free, and open to the public.
Have an event you want to share with us? Contact us.