Thanks for joining us at our latest 2nd Wednesday Social at the Actors Theatre!  It was a ton of fun and below are some photos to prove it.  The rest are posted on the New2Lou Flickr page and New2Lou Facebook Page, which you should join and share your photos! A huge thanks to our host Actors Theatre who not only provided us with an awesome space to socialize, but also invited us to the Brownsville Song tech rehearsal. Be sure to stop by again in the near future to see the Humana Festival plays!
And a  big thanks to our host Actors Theatre and our sponsors Kentucky Derby Festival (KDF) and Main Street Association (MSA), who sponsored our door prizes this month: 1) KDF Swag Bag & Pegasus Pins, 2) MSA Bourbon Basket, and 3) a pair of tickets to an upcoming Humana Festival play.  Congrats to our lucky winners Sarah Warner, Annette Skaggs, and David Nichols!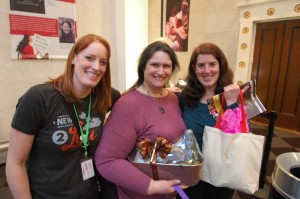 Finally, mark your calendar for our April 2nd Wed Social on Wednesday (4/9)! Details will be posted soon, so stay tuned.