Did you see who made the list of top networking groups in Louisville? We did, of course, but you already knew that, didn't you. Ready to get your network on with Louisville's coolest newbies tonight at Actors Theatre? We still have space available, but you need to RSVP! And don't forget to stop by the Kentucky Derby Festival table to pick up a Pegasus pin and learn all about their awesome upcoming events, including Thunder Over Louisville and the Tour De Lou cycling event. The fine folks at Main Street Association will be there too and can tell you all about the history and awesome businesses located on main street. Win, Win.
So what else is on radar this week? You mean besides our awesome social? Bourbon, Brownsville, and Bailando! Looking for more events around town? Check out the local calendars on our events page. And be sure to follow us on Facebook and Twitter to stay in the know.
Wednesday (3/12) New2Lou 2nd Wed Social - Join us tonight at our March 2nd Wed social at Actors Theatre!  Not only will we have an awesome space to socialize, but we also will meet the Brownsville Song (b-side for tray) director and watch a tech rehearsal before it opens to the general public. Amazing, right?!? RSVP now!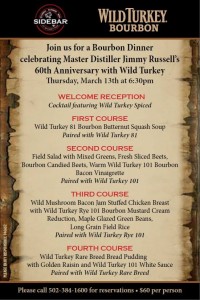 Thursday (3/13) Wild Turkey Bourbon Dinner - Sidebar is hosting a four course dinner celebrating 60 Years of Jimmy Russell's work at Wild Turkey. This legendary figure in the bourbon industry will be on hand to talk about his experiences, his passion, and of course, the bourbon. Each dinner course will be paired with Wild Turkey products. Tickets are $60 per person. Call 502-384-1600 to reserve your spot.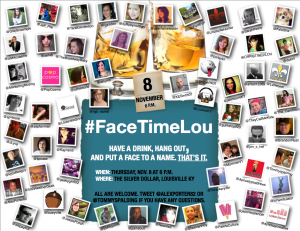 Thursday (3/13) FaceTimeLou - Ever  wondered what your twitter BFF really looks like?  Come mingle and drink with the folks you interact with daily on Twitter in person.  Location is the El Camino and time is 6:30 pm.  BTW our twitter handle is @new2lou.  If you're on Twitter, connect with us.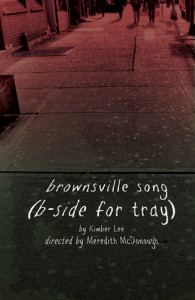 Friday (3/14) Brownsville Song (b-side for tray) - Opening night of Humana Play Brownsville Song (b-side for tray). And lucky you, we get to meet the director and get a sneak peek of the show at our 2nd Wed Social. Show runs through April 6th. Tickets start at $24, unless you are "New2Actors". If so, Actors offers a $10 TRY US OUT TICKET, limit two per person.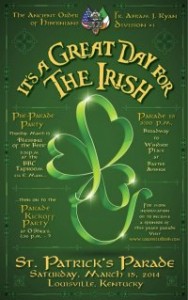 Saturday (3/15) St. Patrick's Parade - 41st annual Ancient Order of the Hibernian's St Patrick's Parade in the Highlands along the Baxter and Bardstown corridor. This year's theme is "It's A Great Day For The Irish!". Parade starts at 3 pm and festivities continue throughout the evening.  Free and open to the public.
Saturday (3/15) Monte Carlo Night -Celebrate your St. Patricks Day Weekend with Hosparus! In addition to casino games, enjooy heavy hors d'oeuvres, raffles, silent and live auctions and LIVE music from the Juice Box Heroes. Doors open at 6:30 pm and entertainment starts at 7:30 pm. Tickets are $75 and include drinks! Sweet deal, right?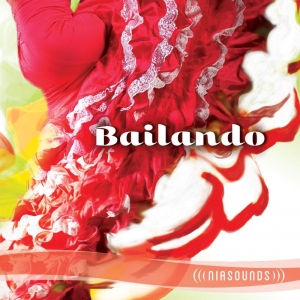 Sunday (3/16) LEARN THE MOVES TO BAILANDO - Bai what?!? Bailando is a lively routine spotlighting dance, friendship, and connection. The music for this routine is a fun mix of Latin-inspired rhythms that motivate the Nia 52 Moves as well as challenge the brain with new patterns. Learn dance moved the first half of the class, then dance BAILANDO!!!  $20 for drop-ins and $16 for Shine Studio members.
On the Radar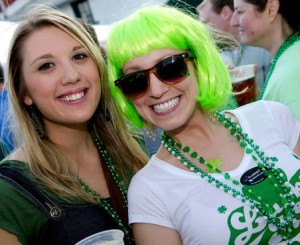 Monday (3/17) St. Patrick's Day - Celebrate St Patrick's Day at a local Irish favorite, the Irish Rover, on historic Frankfort Avenue.  An entire day filled with live music, entertainment, eating, drinking and lots of fun!  $5 cover, kids 12 and under are free.  The tent opens at 11 am and seating is available on a first come/first served basis, so plan to get there early.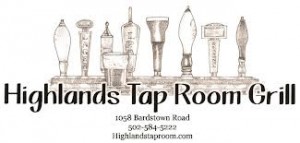 Tuesday (3/18) Thanksgiving Tuesdays - Highlands Tap Room Family says "thank you" by giving back to great local organizations and charities. Visit between 11 am to 11 pm on Tuesday (3/18) and The Forecastle Foundation will receive 15% of the day's sales. Simply mention "Forecastle Foundation".
Want to share a special event, sponsor one our our awesome socials or advertise with us? Contact us