Mark your calendars folks! The Color Run is coming to Louisville on June 7th! We can't wait to welcome them to Louisville and super excited to announce our partnership with Downtown Lou and The Color Run! What does that mean for you? Discounts for #New2Lou participants and awesome volunteer opportunities. Register and sign up to volunteer today! And don't worries, you can do both, so twice the fun!
Want to be a Color Runner?
Here's how it works: Less about your 10-minute-mile and more about having the time of your life, The Color Run is a five-kilometer, un-timed race in which thousands of participants, or "Color Runners", are doused from head to toe in different colors at each kilometer. With only two rules, the idea is easy to follow:
Wear white at the starting line
Finish plastered in color!
The fun continues after Color Runners complete the race with an unforgettable Finish Festival. This larger than life party is equipped with music, dancing and massive color throws, which create millions of vivid color combinations. Trust us, this is the best post-5k party on the planet! and save some cash, use PROMO CODE: COLORKY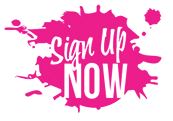 Want to Chuck Colored Powder at Color Runners? Of course you do!
Why volunteer?
Be part of something great! The Happiest 5k on the Planet.
You'll be supporting local and global non-profit organizations and the amazing work they do.
Earn your exclusive The Color Run™ Volunteer t-shirt.  Trust me, your friends will be jealous.
Speaking of friends, bring them along!  Volunteering with friends and family makes the day even more memorable!
And, of course, the chance to chuck colored powder at people!  Need we say more?
Can I run AND volunteer?
Of course!  Come volunteer with us at our check-in party.  You'll still get to be part of the magic making as a volunteer and run on race day.  You'll still need to register to run (do so here).