Our Epic Flight
Did you see our epic flight?!? Thanks to Red Bull Flugtag you can watch it over and over again! We didn't fly the farthest, but we sure did make a big splash in Chicago!
Thank You!
A big thanks to all our supporters, team member friends and family for joining us on this crazy ride! We couldn't have done it without all of you! Cheers! 

Try our slideshow maker at Animoto.
About New2Flug
Has New2Lou gone German? Not exactly. We're actually heading to Chicago to compete in the National Red Bull Flutag competition! Say what? Flugtag is German for "Flight Day" or "Day of Flight" and Red Bull is organizing an event in which competitors attempt to fly home-made, size- and weight-limited, human-powered flying machines by launching off a pier or ramp into a body of water. This year teams representing every state in the US will compete on the same day, Saturday, September 21, in 5 different cities: Washington D.C., Miami, Chicago, Dallas/Fort Worth, and Long Beach. Our team "New2Flug" will be representing Kentucky in Chicago this year! Last year over 75,000 folks watched the craziness live and we hope you can help cheer us on to victory!
What's The Plan?
We plan to build a flying horse, or Pegasus if you will, powered by a team of comically tall jockeys (all over 6 feet).  Once our team is positioned on the ramp we will play the "Call to Post" and "My Old Kentucky Home" which is the traditional start to the Kentucky Derby. We will have a commentator announcing our horses position as we "race" down the Flutag ramp and fly past the competition. Check out our interview on WHAS Great Day Live!

What Do We Need?
Materials to build our awesome Kentucky "Pegasus"! We need your help to literally give us wings so we can fly by the competition. So get excited, get involved and strap yourself in because we're going to fly… hopefully.

 Meet the Team
A crazy group of comically tall New2Lou " jockeys"! The purpose of New2Lou is to "meet new people" and "try new things" which is exactly why we are so excited to participate in the Red Bull Flutag!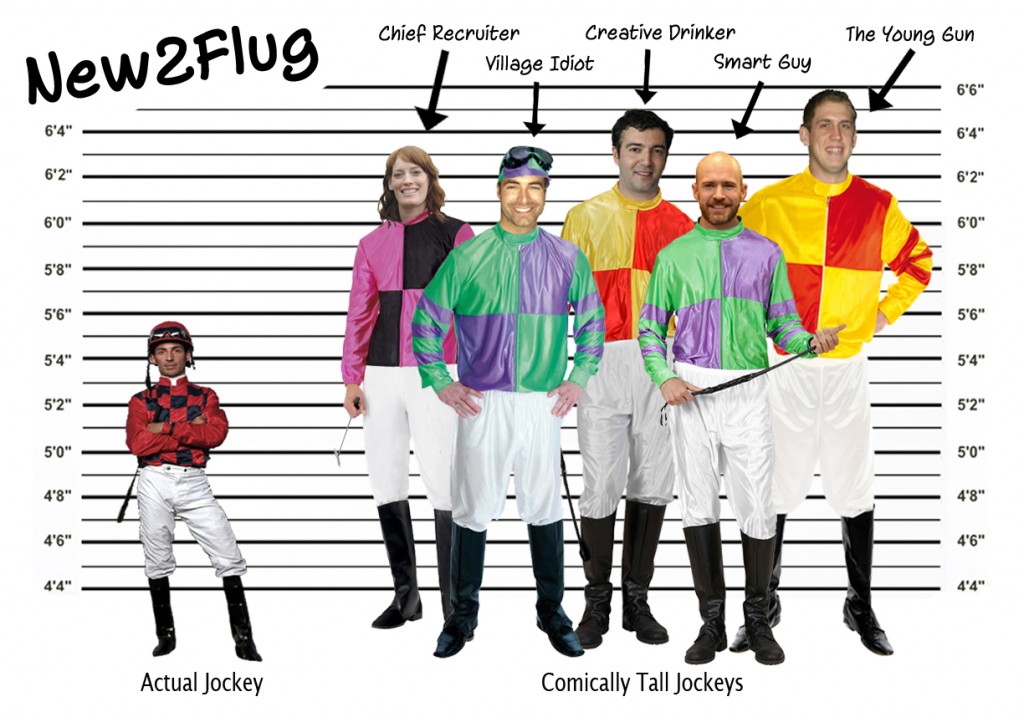 Our Supporters:
A big thanks to our supporters who donated time, materials and resources which all help give us wings. We couldn't do this without you!
LVL1, Vic's Classic Bikes, Parkside Bikes, Bardstown Road Bicycle Company, Bike Couriers Bike Shop, BC Plumbing Company, artist Aron Conaway and the Mammoth.


Join the Party!
Finally, we'd like to invite you to our awesome upcoming parties:
Official New2Flug send off party - Wednesday (9/11) at Garage Bar from 5:30 - 8:30 pm. Our "flying pegasus" flugtag will be on display, our team will be dressed in jockey gear and Garage Bar will be serving up New2Flug themed cocktails, so you certainly don't want to miss out!
Official New2Flug live viewing party - Saturday (9/21) at Sully's in Fourth Street Live! from 1 - 5 pm.  Cheer on our Kentucky team live as they compete in Chicago in front of 5,000,000 million national viewers!
Events are free and open to the public to please spread the word!
Connect
Want to know more about our team, design and where the next party is? Check out our New2Flug team social media pages. We'll keep you up-to-date on our team design, construction and party progress.