What's on the radar? Bourbon, Brandy and Brew! We've handpicked the best events in Lou just for you who are New2Lou. Looking for more great events around town? Check out our New2Lou calendar at new2lou.do502.com. Never again will you find yourself out of the social loop. And don't forget to give us a follow on Facebook, Twitter, and Instagram; you'll be glad you did!
Wednesday (10/7) Taste of Louisville - We all know that Louisville is a serious foodie town right? Here's your chance to sample Louisville's best appetizers, entrees, desserts, cocktails and more! Party starts at 6 pm at Louisville Executive Aviation and tickets start at $50.
Thursday (10/8) Wigs on Tap - Put on your BEST WIG and join the Gilda's Club Associate Board at the Eighth Annual Wigs on Tap! Live music, beer, cocktails, small plates, raffle drawings, and the Best Wig Contest! Tickets are $40. Proceeds benefit Gilda's Club Louisville. Party starts at 6 pm.
Thursday (10/8) - Sunday (11/1) Jack O'Lantern Spectacular - 5,000 professionally carved jack-o-lanterns in themed scenes and set to music along a nearly one-third-mile trail through the woods of Iroquois Park. Carved pumpkins are on display daily from 7:15 pm to 11 pm during the week and midnight on Friday & Saturday. Tickets are $12 for adults, $9 for kids.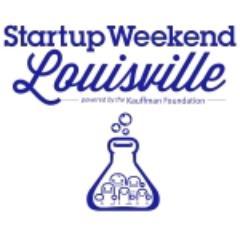 Friday (10/9) - Sunday (10/11) Startup Weekend Louisville - Whether you are looking for feedback on an idea, a co-founder, specific skill sets, or a team to help you execute, Startup Weekends are the perfect environment in which to test your idea and take the first steps towards launching your own startup. Registration starts at $49.
Friday (10/9) - Sunday (10/11) Red Head Convention - Calling all red heads, natural or otherwise (wigs welcome too). Heck there's even a contest for best red colored dog. Festivities run all weekend at Molly Malone's Irish Pub. Enjoy live music, drink specials, and contests. Admission is FREE with a non-perishable food donation to Dare to Care.
Friday (10/9) Porktoberfest - Hop on down to Butchertown for the 3rd Annual Porktoberfest, pork inspired culinary competition benefiting the Butchertown Neighborhood Association this Friday at Copper and Kings. Live music, local brew, and cocktails too! Admission is $2. Party starts at 5 pm.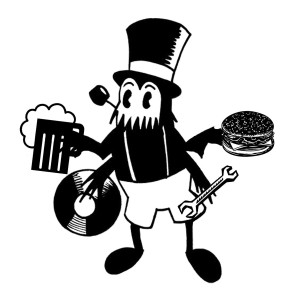 Saturday (10/10) - Sunday (10/11) Flea Off Market - Monthly outdoor bazaar  in Nulu, on Baxter between Market and Jefferson Street. The "buy local"/"keep it weird" ethic is strong in Louisville and especially at The Flea Off Market. Over 100 local vendors, food trucks, drinks, entertainment and more!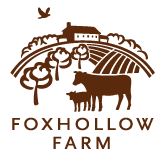 Saturday (10/10) 8th Annual Fall Festival - Fall is finally here! Celebrate our fav season this Saturday at the 8th Annual Fall Festival at Foxhollow Farm. Food trucks, live music, hay rides, pony rides, pumpkins, a corn maze, and a fall themed obstacle course. Admission is free and parking is $5. Food and drinks available for purchase.
Sunday (10/11) Louisville Cocktail Competition - Locally organized competition to showcase the city's best bars and bartenders. Location: The Green Building (732 E Market St) in Nulu. Time: 4-6 pm. $10 entry includes one drink ticket. Additional drink tickets are $5 or 5 for $20.
On the Radar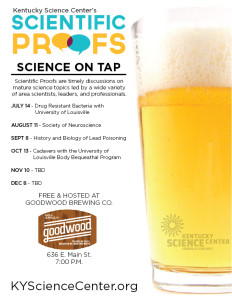 Tuesday (10/13) Science on Tap - Join the Kentucky Science Center for a series of discussions on science topics led by the area's top scientists, leaders, and professionals. This month's topic is cadaver dissection with the University of Louisville Willed Body Program. Location is Goodwood Brewing Co. Discussion starts at 7 pm. Event is 21+ and FREE.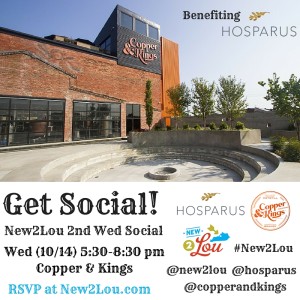 Wednesday (10/14) New2Lou Social Benefiting Hosparus - Mark your calendars for our October 2nd Wed Social at Copper & Kings! This month we're asking for $10 donation to benefit local non-profit Hosparus. Donation includes drink specials, light apps and tour! RSVP today! Need a ride? We've partnered with Uber to give YOU a FREE ride (PROMO CODE: NEW2LOU).
Want to share a special event, sponsor one of our events, or advertise with us? Contact us today!