It's time again to eat, drink and be social! New2Lou Social & New2Flug Send Off Party is tonight at Garage Bar, one of our fav spots. And this month, team New2Flug and our awesome "flying" Pegasus will be at the party to celebrate with all of you!  We'll have #flugtag themed cocktails, costumes, and Magnolia Photo Booth will be there to capture the fun with your new BFF! Speaking of New2Flug, have you donated yet? Support YOUR Kentucky team today! Help Give Us Wings (Literally)!
What else is on the radar this week? You mean besides this epic social? Enjoy Hoosiers on the plaza, kick it at the Vintage Bike Show, celebrate diversity at Salsa, Soul, Sushi, Samosas, and find your new home at the Downtown Living Tour.  Looking for more fun events around town?  Check out the local calendars on our events page.
Wednesday (8/14) New2Lou Social & New2Flug Send Off Party- Join us at our September 2nd Wed social at Garage Bar from 5:30 - 8:30 pm! And lucky you, Team New2Flug and our awesome "flying" Pegasus will be at the party in full character! Free and open to the public, even if you are "Old2Lou". RSVP now!
Thursday (9/12) Movies on Main - The Louisville Downtown Partnership is hosting a series of sports-related movies on the KFC Yum! Center plaza.  We went last week and it was just like being at the drive-in, minus the car. Amazing! This week the movie is Hoosiers. Bring your chair & cash for eats and drinks!
Friday (9/13) - Saturday (9/14) Kentucky Kick Down Vintage Bike Show - vintage motorcycle show on Barret Ave between the Monkey Wrench & Barret Bar. Live music, artist vendors, pool tournament, food trucks and the Miss Kentucky Kick Down Contest. Admission is FREE on Friday, $5 on Saturday.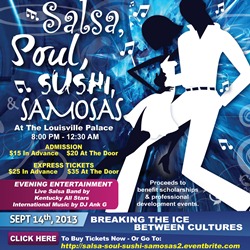 Saturday (9/14) Salsa, Soul, Sushi, Samosas - Join us and an amazing group of young professional organizations at the Louisville Palace as we celebrate diverse cultures through music, dance, food and fun!  Tickets start at $15 and will sell out again this year, so pick yours up today.
Sunday (9/15) Downtown Living Tour - Curious about downtown living?  Hop on the free shuttle from noon- 5 pm and tour the latest and greatest condos and rentals on the market right now! Who knows you may just find your next home.  Event is free and open to the public, so grab your friends and enjoy a fun Sunday in Downtown Lou!
Sunday (9/15) Thrill the Ville -  Every one needs to know the Thriller Dance, right?  Join the fun at 6 pm at Xplosive Rhythms Dance & Fitness for a mere $10 a class! Mention "New2Lou"  percentage of the proceeds will be donated to our awesome New2Flug team! And mark your calendars for the awesome Halloween party on 10-19-13.
On the Radar
Tuesday (9/17) America's Music - Join LFPL as they explore America's most enduring popular music through documentary films. The series runs every Tuesday at 5:30 pm at the Main Library now through October 15th. To register for this free Short Course, call 574-1635. To learn more about "America's Music," visit the Tribecca Film Festival's website.
Saturday (9/21) New2Flug Live Viewing Party - Join us as we cheer on Team New2Flug, the ONE and ONLY team representing Kentucky in the national Red Bull Flugtag competition! Red Bull will be live streaming the event and we have the EXCLUSIVE rights to broadcast the event, so you certainly don't want to miss out!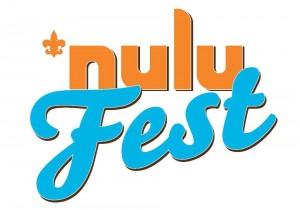 Saturday (9/28) NuLu Festival - Mark your calendars for NuLu Festvial - THE official after party of the Idea Festival! NuLu shuts down the 700 block of E Market for a big 'ole block party!  Local food, craft beer, awesome vendors, and live music on the big stage. And Mini Maker Faire is joining the party too, so you'll get to see some seriously cool stuff!
Want to share a special event, sponsor an event or advertise with us? Contact us