Join us for our regularly scheduled socials every 2nd Wednesday of the month. This month we will be at Evan Williams Bourbon Experience– the brand new distillery/museum in downtown Louisville and first official stop in Louisville on the Kentucky Bourbon Trail. We've reserved the private speakeasy bar just for you and attendees can attend a self guided tour of the facility! Amazing, right?!? But to get this sweet deal, you need to RSVP ASAP. Space is limited and tickets are available on a first come, first serve. So get on it!
Parking:  Street parking is free after 6 pm and there are several parking garages within walking distance for a small fee.
Event is free and open to the public, even if you are "Old2Lou" or "ReNew2Lou". So come join us as we mingle with Louisville's finest newbies!  Look for the signs and people with New2Lou name tags. RSVP today!
Location:
Evan Williams Bourbon Experience
528 West Main St
Louisville, KY 40202
Website Facebook Page
Sponsors: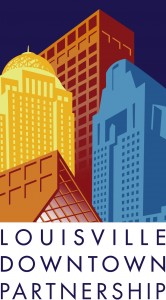 Louisville Downtown Partnership (LouisvilleDowntown.org)
The Louisville Downtown Partnership's (LDP) mission is to improve the economy of Louisville Metro by coordinating an aggressive public/private program to promote the redevelopment, vitality and economic growth of the Central Business District and surrounding areas and to promote Downtown's quality of life by creating a safer, cleaner and more enjoyable environment. The Louisville Downtown Partnership was formed in 2013 and is comprised of two governmental entities: the Louisville Downtown Management District and the Louisville Downtown Development Corporation.
Urban Bourbon Trail (bourboncountry.com)
The Urban Bourbon Trail is a cocktail and culinary experience that highlights the world-renowned bourbon scene in Louisville. The establishments on the Urban Bourbon Trail vary from historic hotel properties that once served Kentucky Whiskey to the likes of Al Capone and F. Scott Fitzgerald to cosmopolitan "scenes" where urban trend-setters are making retro drinks such as the Old-Fashioned and Manhattan in vogue again. Five are in downtown hotels, four have been internationally recognized and all are serving up bourbon-inspired dining. All offer bourbon flights, special bourbon cocktails and all have at least 50 different bourbon labels on the bar with trained staff that can explain the nuances and tasting notes in the varied offerings from Jim Beam Black to Elmer T. Lee. Pick up a Bourbon Country passport from the Louisville Visitors Center or from one of the participating establishments, and collect a stamp from six of the many stops along the Urban Bourbon Trail and you'll earn the rank of official Bourbon Country Citizen. You'll also be awarded a special Urban Bourbon Trailblazer t-shirt and official Citizen of Bourbon Country certificate, so you can proudly display your passion for bourbon to the world. The program is free to participate (other than your purchases), and there's no time limit for completion.
The Evan Williams Bourbon Experience (evanwilliamsbourbonexperience.com) 
The Evan Williams Bourbon Experience celebrates the legacy of Evan Williams, Kentucky's first commercial distiller, through an immersive visitor's center experience which brings to life the history and tradition of Kentucky's native spirit.  Now the 8th stop on the Kentucky Bourbon Trail, the facility offers guests a historical glimpse back in time to see Evan Williams' original distillery through high definition video recreations of the Louisville wharf and Main Street in the late 18th Century, plus recreations of Whiskey Row building facades along Main Street from the 1890's through the present.  Meanwhile, visitors learn the essential differences between distilling during Evan Williams' era and Heaven Hill's modern Bernheim Distillery operations.
Want to sponsor or host an event? Contact us