Fall has finally arrived and we couldn't be more excited about it! Pumpkins, butternut squash and bourbon of course! There is no better place to be that right here, right now as the weather cools, leaves change and ideas fill the air.  That's right. Idea Festival is this week too!  And you can feel the buzz in the air as the city welcomes innovative thinkers from around the world and the rest of us prepare to absorb as much as we can during this action packed week.  Below are some great events this weekend that will not only peak your interest, but hopefully ignite your own ideas into action.
These events should keep you pretty busy, but if you're feeling extra adventurous, find more events by clicking on the local calendars on our events page.
Now - Friday (9/27) Idea Festival - Idea Festival is finally here (at the Kentucky Center  to be exact). Enjoy 3 full days of innovation, imagination and world-changing ideas. We went last year and it fueled our creativity long after the event, so totally worth it! Use discount code IF10 for a New2Lou ticket discount. Full schedule of speakers and events.
Wednesday (9/25) Waterfront Wednesday - final concert of the season at Louisville Waterfront Park Big Four Lawn, which here in Louisville marks the end of summer season.  Featured artists: J. Roddy Walston and the Business, Scott Miller with The Commonwealth and Vandaveer. Music starts at 6 pm.  Free and open to the public.
Thursday (9/26) Movies on Main - The Louisville Downtown Partnership is hosting a series of sports-related movies on the KFC Yum! Center plaza. This week the movie is Remember the Titans. Bring your chair & cash for eats and drinks! It's just like being at the drive-in, minus the car. You'll love it!
Friday (9/27) Food Truck Picnic and Concert Series - The concert series continues at Foxhollow Farm with Misty Mountain String Band and food from Grind Gourmet Burgers, Sweet 'N' Savory, Wiltshire Pantry, and Copper Cupcakes. Bring a blanket and chairs. Doors open at 6 pm. Music at 7 pm. Tickets are $7 in advance/$10 at the door.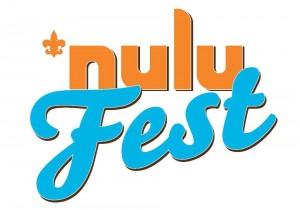 Saturday (9/28) NuLu Festival - THE official after party of the Idea Festival! NuLu is closing down 2 blocks of E Market for a big 'ole block party!  Local food, craft beer, awesome vendors (like us!) and live music on the big stage. And Mini Maker Faire is joining the party too, so you'll get to see some seriously cool stuff! Stop by and say hi!
Sunday (9/28) Fifth Third Bank's Dracula - kick off the Halloween season a little early by catching Dracula at Actors Theatre this Sunday! The show runs now through October 31 and tickets start at $25, unless you are "New2Actors". If so, lucky you! Actors offers a $10 TRY US OUT TICKET, limit two per person. Perfect excuse to try Actors, but be forewarned, you'll be hooked.

On the Radar
Thursday (10/3) Eat Your Bourbon Dinner Series - excite your taste buds by joining Bourbon Barrel Foods, Grasshoppers Distribution and New2Lou for great food and fun at the first "Eat Your Bourbon Dinner Series". Tickets are $50 and complimentary beverages are available. Space is limited and tickets are selling fast, so pick yours up today!
Friday (10/4) - Sunday (10/6) St. James Art Show - 57th annual art show held the first weekend in October in the heart of historic Old Louisville.  Over 750 exhibitors and voted best art show in the nation by the trade journal Sunshine Artist in 2003, 2004, 2006, 2009 &  2010. Sign up to Volunteer.
Want to share a special event, sponsor an event or advertise with us? Contact us