So what's going on this week in Louisville? Plenty of fun festivities to celebrate the long weekend! From Waterfront Wednesday to Worldfest, our fine city sure knows how to be festive! We've handpicked the best events in Lou, just for you who are New2Lou. Looking for more great events around town? Visit our online event calendar at new2lou.do502.com and give us a follow on Facebook, Twitter, and Instagram. Stick close to us and we'll have you plugged into the community in no time.
Wednesday (8/29) WFPK Waterfront Wednesday - Head down to the Big Four Bridge tonight for this FREE monthly summer concert presented by WFPK and Waterfront Development Corporation. Featured artists this month are: Wild Child, The Suffers and Katie Toupi. Music starts at 6:00 pm. Free and open to the public. Parking is a little crazy, so we recommend you ride your bike, or bird/uber/lyft it.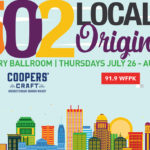 Thursday (8/30) WFPK Presents 502 Originals Series - 502 Originals series wraps up this Thursday at Mercury Ballroom. 502 Originals features up-and-coming acts from the Louisville area and the series runs through August 30th. Featured artists are Thomas A. Minor & The Picket Line with Tyler Lance Walker Gill. Doors open at 7:30 pm and show starts at 8:30 pm. Tickets start at $7. Enter to win a pair at new2lou.do502.com.
Friday (8/31) Old Louisville Live: In Lightning - Your Friday night just got upgraded. Head down Old Louisville for Old Louisville Live this Friday from 8:00 to 11:00 pm. Indie band "In Lightning" will light up the stage with their high-energy rock orchestra performance. Food trucks will onsite and Old louisville Brewery will be serving up fine beers. FREE and family-friendly event (in case you have some kiddos).
Friday (8/31) - Monday (9/3) Worldfest - Celebrate the 16th anniversary of one of the region's largest international festival this holiday weekend! Enjoy 4 days of expanded world food, music, dance, culture and education on the Belvedere in downtown Louisville. Admission to free. Hours: Fri-Sun 11:00 AM - 11:00 PM; Mon 11:00 AM - 8:00 PM. More info at louisvilleky.gov/government/city-events/worldfest.
Saturday (9/1) Back to Back - A Tribute to Billy Joel / Elton John - Love Billy Joel? Elton John? Then you certainly don't want to miss this show. Back to Back, is a show filled with amazing performances by 2 amazing acts: Billy Joel Tribute Turnstiles and Elton John Tribute Absolute Elton. Don't miss this fun event at Mercury Ballroom this Saturday! Tickets are only $8. Want to go for FREE?!? Click here -> new2lou.do502.com.
Sunday (9/2) Labor Day Weekend R&B Summer Jam - It's Labor Day weekend! So another day to play in the sun or in this case another night to enjoy some sweet sounds under the stars. Head down to Iroquois Amphitheater this Sunday night for an old school R&B evening featuring Ginuwine, Blackstreet and Sounds by DJ-Q. Tickets start at $33. Doors open at 5:00 PM, show starts at 6:00 PM.
On the Radar
Monday (9/3) Subway Fresh Fit Hike Bike and Paddle - Plans for Labor day? You do now! This FREE free family-friendly event is organized by the Mayor himself, NBD. To participate you can hike, bike, or paddle, your choice! And it doesn't stop there. Enjoy yoga, Tai Chi, and Zumba too! A full schedule of events is listed on Louisville Metro's website.
Wednesday (9/12) New2Lou September Social - Early notice, but we're already so excited to meet more cool new folks and assuming you are too. Mark your calendars for our September social at a NuLu hot spot, the Taj. We'll be partying it up on the back patios so plenty of room and a super sweet space too. Event is FREE w/ RSVP. All welcome, even if you are "Old2Lou" (wink).