Thanksgiving is right around the corner and we've got plenty to be thankful for in this fine town.  What are we thankful for? Lots of great events to keep us busy, awesome local businesses to shop for the holidays, and of course, all of you (WINK).
So what's on the radar this week? Music, Magic and Flea Off Market! We've handpicked the best of the best events just for you, who are New2Lou. Looking for more events around town? Check out our brand new New2Lou calendar thanks to the fine folks at Do502! Now you can see our top event picks anytime you want! Never again will you find yourself out of the social loop. And don't forget to follow us on Facebook and Twitter, you'll be glad you did.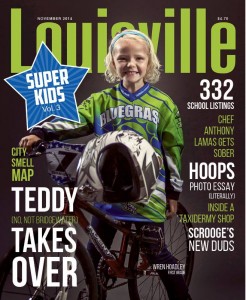 Wednesday (11/5) Louisville Magazine Launch Party - Join Louisville Magazine as they celebrate the launch of the November issue the School & College Guide at 5:30 at the Impellizzeri's Pizza downtown location (110 West Main Street). Free appetizers, drink specials and a complimentary copy of the November issue. Free and open to the public.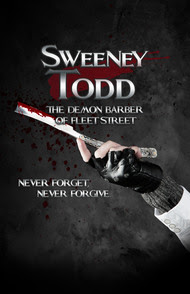 Thursday (11/6) Sweeney Todd: The Demon Barber of Fleet Street - Last chance to this Tony Award winning musical right here in Louisville, at Center Stage at the Jewish Community Center. This amazing show ends Friday (11/9) and there are only a limited amount of shows left, so get on it. Tickets start at $20.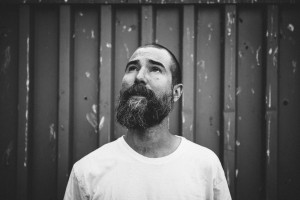 Thursday (11/6) Matt the Electrician - Catch Austin based singer/ songwriter Matt and the Electrician w/ local singer/songwriter Justin Paul Lewis at Headliners Music Hall. Tickets $12 in advance, $15 at the door. Doors open at 8 pm, show starts at 9 pm. Enter to WIN TIX from Do502 at New2Lou.com.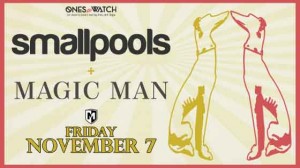 Friday (11/7) Smallpools and Magic Man - Are we dreaming? Nope! Smallpools will be in Louisville performing at Mercury Ballroom this Friday! Tickets start at $13 and there's a $10, no ticket fee special today. Want FREE tix? The fine folks at Do502 got you covered. Enter to win at new2lou.com. Good luck!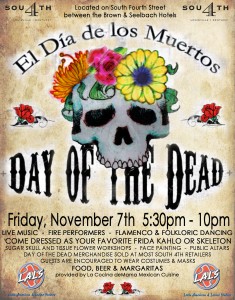 Friday (11/7) First Friday Trolley Hop - free event on the first Friday of every month at the shops, restaurants and galleries in historic West Main district, trendy NuLu District and SoFo district from 5-11 pm. And while you're out and about, don't forget to hit up Day of the Dead on South Fourth.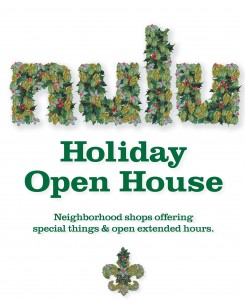 Saturday (11/8) NuLu Holiday Open House - Lucky us, we have a ton of great local shops to choose from here in Louisville. Not only can you find a one-of-a-kind gift, you also help support our local economy, win, win. In that spirit, the fine local retailers in NuLu will be offering sweet discounts and spreading holiday cheers on Saturday (11/8) from 11 am to 7 pm.
Saturday (11/8) - Sunday (11/9) Flea Off Market - monthly outdoor bazaar  in Nulu, on Baxter between Market and Jefferson Street. Over 100 local vendors, food trucks, drinks, entertainment and more! New addition this month: Live Auction and Chicken Shit Bingo on Sunday! Yeehaaawww!
On the Radar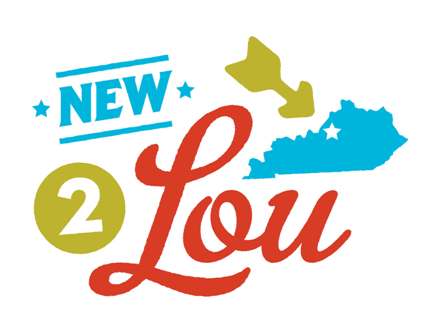 Wednesday (11/12) New2Lou 2nd Wed Social - Mark your calendars folks, it's almost time again to get social with the coolest newbies in town. This month we'll be at Great Flood Brewing Company, brand new craft brewery located in the heart of the highlands. FREE event, but space is limited so RSVP today!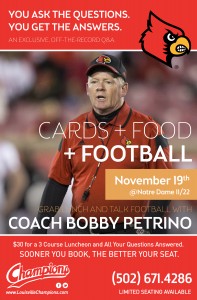 Wednesday (11/19) Coach Petrino Lunch Series - Love football? Love food? Here's your chance to grab lunch and chat football with University of Louisville Football Coach Bobby Petrino at Champions Sports Bar in the Louisville Marriott Downtown. Tickets are $35 and include food. Space is limited, so grab your ticket today!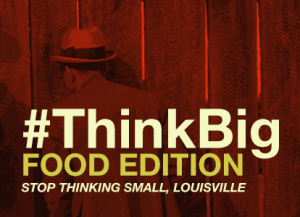 Wednesday (11/19) #ThinkBig - Food Edition - Early notice, but the last one sold out and we certainly don't want you to miss out. Brian Wallace of Now Sourcing is hosting a "town hall" ish meeting to get folks to #ThinkBIG when it comes to food. Not restaurants, but how to make Louisville a food/tech hub. Free event but RSVP required.
Want to share a special event, sponsor one of our events, or advertise with us? Contact us