Last minute NYE planning? No worries, we're here to help 😉. We've handpicked a list of great NYE options just for you! What else is on the radar besides NYE? Plenty to help you ring in the New Year in style! Looking for more great events around town? Check out our calendar at new2lou.do502.com. And don't forget to follow us on Facebook, Twitter, and Instagram; you'll be glad you did!
Now - Sat (1/2) Holiday in the City - Last chance to catch the city's annual holiday celebration. Enjoy a nightly light show set to music, World Market (vendors in little Europeanesk huts), beer and bourbon village, and ice skating on 4th Street in Downtown Louisville. Ice skates available for rental. Receive a discount of $2.00 on Ice Skating with the purchase of the Holiday in the City Pin. Free and open to the public.
Thursday (12/31) New Year's Eve - 🎶What are you doing NYE 🎶? Our top picks: NYE Prohibition Era Dance Party ($20 in advance, Tickets), NYE w/ Tony & The Tan Lines & DJ K-Dogg ($75 all inclusive, Tickets), The Hot Wires, Jaxon Lee Swain, Blythe of the Ball ($10, Tickets), No Cover New Year's at Haymarket (Free), NYE Animal Mask-Querade (Free), 21C Louisville NYE Party ($59, Tickets). More at new2lou.do502.com.
Friday (1/1) New Year's Day Brunch - After celebrating all night you'll likely need to get your brunch on. Here's few great options. Zanzabar's Arcade Brunch - Video games, cereal bar, and Bloody Mary bar. Grab some grub at the Gralehaus, but get there early, space is limited. Head downtown to Proof on Main for a tasty brunch. And the usuals will also be serving up brunch: Silver Dollar, North End Cafe, Garage Bar, Toast on Market, Ghyslain.
Saturday (1/2) The Ultimate Tribute to Elton John - Love Elton John? Then this is your gig. And even if you're not a big fan this promises to be an entertaining evening. Catch the Elton John Tribute band Madmen Across the Water at Headliner's Music Hall this Saturday night as they belt out Elton John classics like Benny & the Jets, Rocket Man and Crocodile Rock. Tickets are $10 and show starts at 8 pm. 18+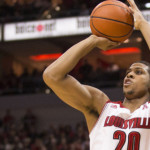 Sunday (1/3) U of L Men's Basketball vs. Wake Forest - Cheer on our hometown heroes, the Louisville Cardinals, as they battle it out against the Wake Forest Demon Deacons this Sunday at the KFC Yum! Center. Game starts at 7 pm and it's a great way to wrap up an action packed weekend. Tickets are still available, but not for long. Only a few spots left so get on it.
On the Radar
Tuesday (1/5) - Sunday (1/31) 4000 Miles - Opening night of 4000 Miles at Actor's Theatre of Louisville. Don't miss this powerful drama about a 20-something west-coast bicyclist who experiences life, love, and loss on his epic ride across the country. Show runs through January 31st and tickets start at $25. Looking for a deal? Why not grab a season or flex pass package?
Wednesday (1/13) New2Lou 2nd Wed Social - Kick off the New Year and New You at our New2Lou 2nd Wed Social  Wednesday (1/13) from 5:30 to 8:30 pm. Mix and mingle with Ballotin Whiskey AND the coolest new folks in town at the swanky Corner Bar in the brand new A-Loft Hotel in downtown Louisville. Event is FREE with RSVP. Space is limited, so RSVP today!
Want to share a special event, sponsor one of our events, or advertise with us? Contact us today!