Spring has finally arrived, which means the temperatures are heating up and so are the events.  And spring here in Kentucky is horse racing madness!  Keeneland opens this weekend and Derby is right around the corner, Sat (5/4).  You'll start to hear folks say, "Let's schedule something after Derby".  Just go with the flow and get ready to party for a full two weeks leading up to Derby. Festivities kick off with Thunder Over Louisville on Saturday (4/20) and continue with a full suite of Kentucky Derby Festival events .  We'll have more info about Thunder in next weeks e-newsletter so stay tuned.
What's on the radar this week? Plenty of reasons to celebrate the long awaited arrival of Spring! Looking for more fun events this week?  Check out the local calendars on our events page!
Wednesday (4/3) - Sunday (4/7) $10 Humana Festival Offer - As the Humana Festival comes to a close, Actors Theatre of Louisville would like to give the community one last chance to see Appropriate and all of this year's new works first before they leave town.  $10 tickets available for the following productions*.  Call the Box Office at 502-584-1205 to purchase today!
Wednesday (4/3) Louisville Magazine Launch Party - Louisville Magazine April launch party at Captains Quarters from 5:30-7:30 pm.   Free apps, specialty drinks by Four Roses Bourbon, and complimentary copies of the magazine. First 50 folks receive a gift from Four Roses, be punctual and you will be rewarded. Free and open to the public.
Thursday (4/4) Louisville Bats Opening Night - Baseball season is finally here and Louisville Slugger Field is a great place to spend the season.  Enjoy $1  beer Happy Hour & you may just win a Joey Votto Commemorative Beer Stein! Tickets start are $7.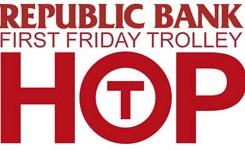 Friday (4/5) First Friday Trolley Hop - free event held downtown on the first Friday of every month at the shops, restaurants and galleries in historic West Main district and trendy NuLu District.  Here's the inside scoop on special events going on this month thanks to LDMD.
Friday (4/5) OMC Louisville Launch Party- Need another excuse to party? Join the club, Original Makers Club,  at the Farmington Historical Home on Friday (4/5). Special performance by A Lion Named Roar, Hors d'Oeuvres by Wiltshire Pantry, and complimentary open bar featuring Jeffersons Bourbon. Tickets are $75.
Friday (4/5) - Friday (4/26) Keeneland Spring Meet - Spring is a big season here in Kentucky, it's horse racing season!  Keeneland kicks off spring racing season this weekend, only a short drive from Louisville (~70 miles) and so worth the drive. Surrounded by horse farms, it looks like something straight out of a dream or KY tourism magazine.
Saturday (4/6) Merle Haggard's Birthday Party - Celebrate Merle Haggard's Birthday at honkiest-tonkiest bar in Louisville, The Silver Dollar. They will be servin' up Hag inspired cocktails, spinning Merle records, drinking whiskey and getting rowdy. Sounds like fun to us!
Sunday (4/7) PosSOUPbility Spring Fling - $10 cash, tasty meal, presenters talking about innovative projects to celebrate and benefit people, places and things in Louisville. And you choose the winner, who walks away with cash in hand for their community project.
On the Radar
Wed (4/10) New2Lou Social at Garage Bar - It's time again to socialize with Louisville's finest newbies!  This month we will be at Garage Bar, trendy NuLu bar in you guessed it, a former garage.  Weather should be nice, so we'll be mingling outside on the patio. Event is free and open to the public, even if you are "Old2Lou" or "ReNew2Lou". RSVP today!
Saturday (4/13) Out of the Gate: Guide to the Ultimate Bourbon Derby Party - This class is designed to show you how to successfully pull-off a bourbon-themed Derby party. You know you'll have guests for Derby, so you better learn a thing or two about how to rock a Derby party like a local. Be the "hostess with the mostest".
Saturday (4/13) YPAL Keeneland Tailgating - Ready for some true Kentucky tailgating. We're not talking college sports here, we're talking horses! Join YPAL for a day at the Keeneland track. Tickets are $25 for YPAL members, $35 for non-members and transportation is provided.
Thursday (4/25) Bourbon Series: 102 - Ready to make some cocktails? Learn insider bartender tips on how to make top-notch bourbon cocktails. Did we mention this is an interactive class? So you get to mix and taste your cocktail creations while socializing with the coolest new folks in town. Sold yet?  Tickets are $35 and space is limited. RSVP today!
Have a special event to share in our e-newsletter? Want to sponsor an event or advertise with us? Contact us
*Actors $10 Offer Productions: