It's cold outside, but it will be hot, hot, hot at our New2Lou 2nd Wed Social! Join us tonight at Mellow Mushroom, an awesome new pizza joint in the heart of the St Matthews, from 5:30-8:30 pm. Never been to Mellow Mushroom? Well, we're here help! We'll introduce you to cool new spots and cool new people.  Wednesday night also happens to be Trivia Night at Mellow Mushroom, so be social, grab a friend and share wits in one eventful hump day!
What else is on the radar this week? You mean besides our 2nd Wed Social? Plenty to keep you warm. Music, movies and sweet dance moves, to name a few. More hot events are listed below and don't forget to check the local calendars on our events page.
Wednesday (11/13) New2Lou 2nd Wed Social - Join us for our November 2nd Wed social tonight at the Mellow Mushroom in St Matthews from 5:30 - 8:30 pm! Drinks, food and awesome new folks of course! Free and open to the public, even if you're "Old2Lou". Don't forget to RSVP and we'll see you soon!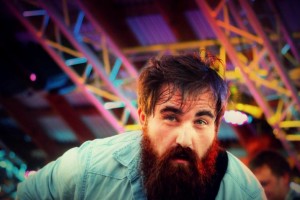 Wednesday (11/13) WFPK Winter Wednesday - After our social head on down to the Clifton Center (just a short drive from Mellow Mushroom) for some great music. David Mayfield Parade will take the stage at around 8:30 pm and it promises to be a great show! Free and open to the public. Bring a canned good for the Dare to Care Food Bank.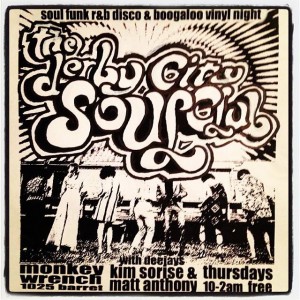 Thursday (11/14) The Derby City Soul Club's Scorpio Party - Enjoy soul grooves, dancing and B Movies at the Monkey Wrench every Thursdayat 10 pm. Louisville's favorite Soul DeeJays, DJs Kim Sorise and Matt Anthony, will be bringing their wax to the Monkey Wrench's dance floor and will be keep it hot until 2 am.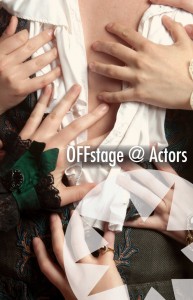 Friday (11/15) Offstage @ Actors: Tom Jones - The fine folks at Actors Theatre are hosting an awesome evening of music, friends, eats, and theater this Friday. Enjoy live music from Squeeze-bot, cash bar, cheap eats from MilkWood, Hillbilly Tea, AND catch the Tom Jones show all for only $20 a ticket! Sweet deal, right?
Friday (11/15) - Saturday (11/16) Festival of Trees & Lights - Annual Festival of Trees & Lights hosted by the Children's Hospital Foundation. Hundreds of volunteers transform Louisville Slugger Field into a holiday dream for a great cause. Admission is $3 for kids, $5 for adults. View the full schedule of events.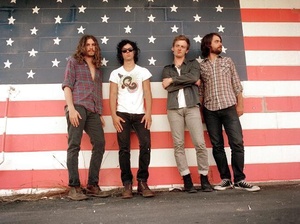 Saturday (11/16) Turbo Fruits and Discount Guns - local rockers Discount Guns will be opening up for the Turbo Fruits at Zanzabar, one of the favorite local music venues, this Saturday. This show promises to rock your socks off, literally. Doors open at 8 pm, show starts at 9 pm. Tickets are $5. Be there.
Sunday (11/17) Out of Print Film Screening - The Clifton Center is hosting a film screening of Out of Print as part of the Southern Circuit Tour of Independent Filmmakers. Following the screening, Vivienne Roumani will engage with the audience in a discussion about the film and her work as a filmmaker. Show starts at 7 pm. Free and open to the public. Cash bar available.
On the Radar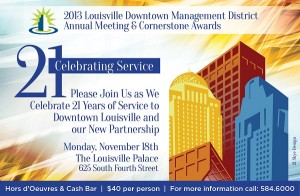 Monday (11/18) LDMD Annual Meeting and Cornerstone Awards - learn more about downtown and mingling with key city movers and shakers, Mayor included. Join LDMD as they celebrate 21 years of service and recognize key development projects at the Louisville Palace. Networking at 5 pm, programming starts at 6 pm. Tickets are $40.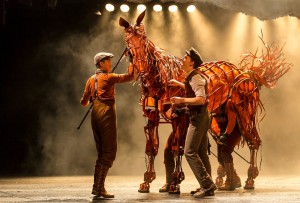 Tuesday (11/19) War Horse - Opening night of War Horse which also happens to be the Kentucky Center's 30 Year Anniversary! Come celebrate at the Kentucky Center and catch the remarkable tale of courage, loyalty and friendship. Tickets start at $25. Show runs through Sunday (11/24).
Want to share a special event, sponsor an event or advertise with us? Contact us