Happy Halloween! There are plenty of reasons to get out and celebrate this week, but be sure to bring your rain jacket and umbrella, because a storm's a brewin'.  So what's on radar this week? Werewolves, Day of the Dead and Wilderness Survival training to name a few.  Plenty to get you in the Halloween spirit.  And don't forget to check out one of the best Halloween neighborhoods in the US , Crescent Hill.  More great events are listed below and on our events page.
Wednesday (10/30) XLerateHealth Demo Day - Health care is big in this city, so big we now have a healthcare accelerator, XLerateHealth. The first class of healthcare startups graduate this Wednesday and this is your chance to meet and learn about their startup before they blow up.  Free and open to the public. Register here.
Thursday (10/31) Lady Werewolf - Spend Halloween night with some "cute, but scary" musical ladies at Zanzabar. Who's on the lineup? Lacey Guthrie and MaryLiz Guillemi, AKA Twin Limb, Joann Jene Dickson, Ancient Warfare, Lady Pyramid and Black Birds of Paradise. Doors open at 8 pm, music starts at 8 pm . Tickets are $10.
Thursday (10/31) The Derby City Soul Club's Halloween Get Down! - Get up and get down at the Derby City Soul Club dance party at the Monkey Wrench. DJs Kim Sorise and Matt Anthony will be spinnin' the beats and keeping the party hot until 2 am.  Come dressed to impress in your finest Halloween gear.
Friday (11/1) First Friday Trolley Hop - free event on the first Friday of every month at the shops, restaurants and galleries in historic West Main district and trendy NuLu District.  Awesome additions this month: SoFo Day of the Dead party and meet Willie Pratt Master Distiller of Michter's Distillery at Haymarket Whiskey Bar.
Saturday (11/2) INTERSECTIONS - works by Ashley Brossart - Love Louisville? Architecture? Color? Line drawings? Abstract paintings? Representational paintings? Enjoy all of these in Ashley Brossart's latest show - INTERSECTIONS at Revelry Boutique Gallery.  Opening reception is 7-10 pm and exhibit runs through December 1st . Free and open to the public.
Sunday (11/3) Wilderness Living Skills + Primal Awareness - Join Foxhollow Farm and wilderness survival expert John Michael Musselman collecting valuable skills which could actually save your life one day. Learn how to start a fire, build shelter and find food and water which will come in handy whether your lost in the woods or in the midst of an all out zombie Apocalypse.
Sunday (11/3) City and Colour with special guest Sleepy Sun - acclaimed singer, songwriter and performer Dallas Green, aka City and Colour, is coming to Louisville to promote his new album The Hurry and The Harm. Catch this amazing show with special guest Sleepy Sun at the Brown Theatre for a mere $27.50 a ticket. No doubt, the best deal and show going on this Sunday.
On the Radar
Tuesday (11/5) Autumn Bash w Seluah and Blythe of the Ball - Local musician Seluah will be performing at the legendary Louisville Stoneware, founded in 1815 and one of the oldest stoneware companies in the US.  Show starts at 7:45 pm and runs until 12:30 am.  Early and late sets. Event is free and open to the public.
Wednesday (11/6) Louisville Magazine November Launch Party - Join Louisville Magazine as they celebrate the launch of the November Annual School issue at 5:30 at the Belle of Louisville. Yep, you heard us right, on a boat. Free appetizers, drink specials and a free copy of the November issue. Free and open to the public.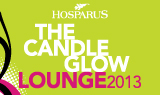 Saturday (11/9) Hosparus Candle Glow Lounge - Got your tickets yet? This is going to be a super fun party benefiting an awesome organization, Hosparus.  If you didn't get a chance to pick up your tickets at our last social, no worries, there are still a few left. Get them soon, so you don't miss out!
Want to share a special event, sponsor an event or advertise with us? Contact us