Idea Festival kicks off this week and you can feel the buzz in the air as the city welcomes innovative thinkers from around the world and the rest of us prepare to absorb as much as we can during this action packed week.  Below are some great events this week that will not only peak your interest, but hopefully ignite your own ideas into action.
What's on the radar? Food, Film, and Fall Festivities! We've handpicked the best of the best events this week just for you, who are New2Lou. Looking for more events around town? Check out the local calendars on our events page and give us a follow on Facebook and Twitter, you'll be glad you did.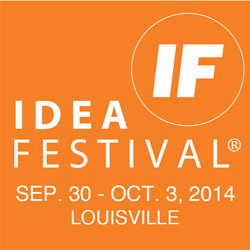 Now - Friday (10/3) IdeaFestival - Idea Festival is finally here (at the Kentucky Center  to be exact). Enjoy 3 full days of innovation, imagination and world-changing ideas. We went last year and it fueled our creativity long after the event, so totally worth it! Use PAY90 for a sweet New2Lou ticket discount. Full schedule of speakers and events.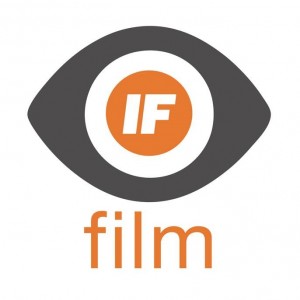 Now- Saturday (10/4) IF Film - A total of 7 features and 6 short films will screen over five days as a part of IdeaFestival 2014. Festival activities include film screenings, Q&A's with filmmakers and actors, live music, and a filmmaker reception. General admission tickets are $12, festival passes are $90. Discounts available for Louisville Film Society members and Idea Festival pass holders.
Wednesday (10/1) Taste of Innovation - Over two hours of unlimited food and spirits provided by more than 30 of the region's most creative chefs, restaurants, brewers, baristas, distillers and mixologists at the legendary Churchill Downs, Millionaire's Row! Sold, yet? You should be. Tickets are $40 in advance, $50 at the door.
Thursday (10/2) ExBEERiment - Love beer? Love science? Lucky you, cause we've found the perfect pairing, ExBEERiment! Join the Kentucky Science Center for a fun evening filled with local and eclectic beer tastings while learning the science behind home brewing. Must be 21 to attend. Tickets are $15 for members, $20 for non-members.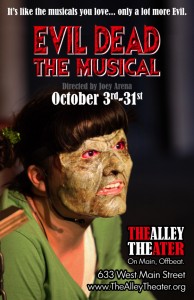 Friday (10/3) - Friday (10/31) Evil Dead: The Musical - So this looks like all kinds of awesome. There is a huge cult following for Evil Dead and the Alley Theater is twisting it up a bit, by adding a musical component. Tickets are $20, unless you are brave enough to sit in the "splaterzone" for $30. Be warned splaterzone folks, you will get "very bloody".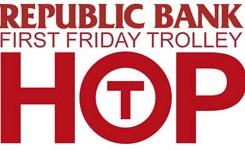 Friday (10/3) First Friday Trolley Hop - free event on the first Friday of every month at the shops, restaurants and galleries in historic West Main district and trendy NuLu District from 5-11 pm. And don't forget to check out the Official Idea Festival After Party at Resurfaced while you're hoppin' downtown.
Friday (10/3) - Saturday (10/25) Keeneland Fall Meet - Keeneland is kicking off their fall racing season this weekend, only a short drive from Louisville (~70 miles) and so worth the drive. Surrounded by horse farms, it looks like something straight out of a dream or KY tourism magazine. Gates open at 11 am, racing starts at 1 pm. General admission is $5.
Friday (10/3) - Sunday (10/5) St. James Art Fair - 58th annual art show held the first weekend in October in the heart of historic Old Louisville.  Over 750 exhibitors and voted best art show in the nation by the trade journal Sunshine Artist in 2003, 2004, 2006, 2009 &  2010. Sign up to Volunteer.
Saturday (10/4) - Sunday (10/5) Louder Than Life Festival - Brand new festival focused on "music, whiskey, gourmet man food", not sure what that last one is. Anywho, on the lineup are some serious rockers including Kid Rock, Stone Temple Pilots, Korn, Limp Bizkit, and more. Single day tickets start at $64.50 and 2-day passes start at $109.50.
On the Radar
Wednesday (10/8) New2Lou 2nd Wed Social - It's almost time again to get social with the coolest newbies in town. This month's 2nd Wed Social is at Down One Bourbon Bar, super cool, underground (figuratively and literally) bourbon bar located in the heart of downtown. Space is limited. RSVP today to reserve your spot!
Friday (10/10) Porktoberfest -  Mark your calendars for the 2nd Annual Porktoberfest, pork inspired culinary competition benefiting the Butchertown Neighborhood Association, at Copper and Kings. Live music, local brew from Apocalypse Brewery, cocktails from Copper & Kings. Vegetarian options also available. Free and open to the public. Party starts at 5 pm.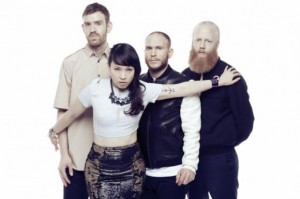 Thursday (10/16) Little Dragon - Early notice, but this show is gonna rock it and tickets are selling fast. We certainly don't want you to miss out. Mark your calendars for October 16th at the Mercury Ballroom and don't forget to snag your tickets ASAP. We'll see you there!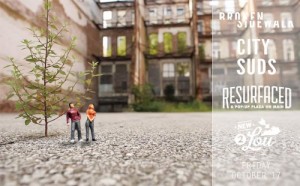 Friday (10/17) City Suds Urbanism Happy Hour - Come grab some drinks, meet some folks and celebrate the relaunch of one of our fav local blogs Broken Sidewalk! Join us Friday, October 17 at ReSurfaced, the brand new pop-up plaza in Downtown LOU. Free and open to the public. RSVP today!
Want to share a special event, sponsor one our our awesome socials, or advertise with us? Contact us