So what's on radar this week? You mean besides our awesome social tonight at 8UP Elevated Drinkery & Kitchen?!? Friends, Flea and GonzoFest! We've handpicked the best events this week, whether you're New2Lou or a Louisville Lifer, we've got a little something for you. Looking for more great events around town? Check out our sweet New2Lou calendar thanks to the fine folks at Do502. Never again will you find yourself out of the social loop. And don't forget to give us a follow on Facebook, Twitter, and Instagram; you'll be glad you did!
Wednesday (4/8) New2Lou 2nd Wed Social - Join us tonight at our April New2Lou 2nd Wed Social at 8UP Elevated Drinkery & Kitchen! Mix and mingle with Louisville's coolest newbies while enjoying drinks and the amazing rooftop view. Event is FREE and open to the public, event if you are "Old2Lou". RSVP to reserve your spot today!
Thursday (4/9) Maker Mixer - Calling all makers, techies, engineers, creatives, and overall cool folks. First Build is inviting YOU for drinks and appetizers from 6-8 pm to kick-off their Hack the Home Hackathon this weekend. AND a "hackable" Delorean is joining the party too so you can totally get your geek on! RSVP today!
Friday (4/10) Tchaikovsky's Pathetique - We are so lucky to have our very own orchestra and an amazing new conductor Teddy Abrams, who also happens to be #New2Lou and is creating quite the buzz around town and around the country. Catch him and the incredibly talented Louisville Orchestra at the Kentucky Center this Friday. Tickets start at $15.
Saturday (4/11) GonzoFest - 2015 marks the 5th year of GonzoFest Louisville- and it will be bigger and weirder than ever! The party is at Big Four Bridge and the fest will be jam-packed with all kinds of weird fun. Tickets are $10. Enter to win a chance for an Epic Prize Pack at new2lou.do502.com.
Saturday (4/11) Cured and Crafted - Copper & Kings invites YOU to Cured & Crafted in their amazing modern outdoor courtyard this Saturday from 10 am to 4 pm. Sample products from local and regional purveyors of country ham, cheese, chocolate and more! And because it's Copper & Kings, we're guessing there will be brandy too (*wink*).
Saturday (4/11) - Sunday (4/12) Flea Off Market - Spring has officially arrived and Flea Off Market is back on the market. What's Flea Off Market? Monthly outdoor bazaar in Nulu, on Baxter between Market and Jefferson Street, with local vendors, food trucks, drinks entertainment, the works. It's family friendly and FREE!
Sunday (4/12) Gov't Mule - We can't think of a better way to wrap up an amazing weekend, than a night of rock at one of our fav venues, the beautiful, historic Brown Theater. Seriously, grab your BFF or cheesy macaroni and catch these Southern rockers, Gov't Mule, this Sunday night. Show starts at 8 pm and tickets start at $27.
On the Radar
Monday (4/13) - Tuesday (4/14) Louisville Bats vs. Columbus Clippers - It's that time of the year again folks, baseball season! And lucky us, we are not only home to THE Louisville Slugger, but also home to the Louisville Bats. Grab a friend and cheer on the home team at Lousville Slugger Field! Game starts at 6:35 pm and tickets start at $12.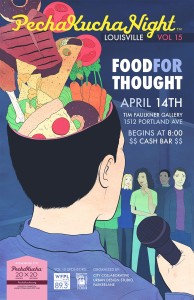 Tuesday (4/14) Pecha Kucha "Food" - Pecha what? PechaKucha, a night of ideas featuring a series of short presentations, 20 slides at 20 seconds each. This month presenters will focus on the topic "Food for Thought" at the Tim Faulkner Gallery. Doors open at 7 pm, presentations start at 8 pm. Free and open to the public.
Want to share a special event, sponsor one of our events, or advertise with us? Contact us today!