Halloween is finally here and you can feel a chill in the air as the ghosts and ghouls prepare to rise to the occasion. Got plans for the weekend? You do now. We've handpicked the most frightful events just for you, who are New2Lou. Looking for more great events around town? Check out our calendar at new2lou.do502.com. And don't forget to give us a follow on Facebook, Twitter, and Instagram; you'll be glad you did!
Now - Sunday (11/1) Jack O'Lantern Spectacular - Last chance to see 5,000 professionally carved jack-o-lanterns in themed scenes and set to music along a nearly one-third-mile trail through the woods of Iroquois Park. Carved pumpkins are on display daily from 7:15 pm to 11 pm during the week and midnight on Friday & Saturday. Tickets are $12 for adults, $9 for kids.
Wednesday (10/28) Connecting Firms with Global Talent - Looking for a job or better opportunity in your career? Trying to improve your résumé or interviewing skills? Don't miss this career development and talent sourcing event with NSHMBA, GLIP, GLI and LSHRM tonight from 5:30 pm to 8:30 pm. Event is FREE, but RSVP required.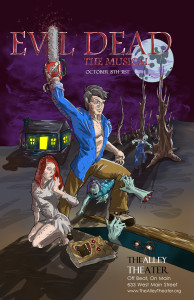 Thursday (10/29) - Saturday (10/31) Evil Dead: The Musical - Last chance to catch Evil Dead with a musical twist at the Alley Theater. This show promises to excite, fright and delight. Show starts at 8 pm. Tickets are $20, unless you are brave enough to sit in the "splaterzone" for $30. But be warned splaterzone folks, you will get "very bloody".
Friday (10/30) Lock, Stock & Smoking Barrels benefitting the Beargrass Creek Alliance - Festival of brandy barrel aged beer, beer barrel aged brandy (try saying that tongue twister 3 times in a row), live music, food trucks, & raffle prizes! Party starts at 6 pm at Copper & Kings. Tickets are $45, $10 for DD. Enter to win a pair of tickets at new2lou.do502.com. Proceeds benefit the Beargrass Creek Alliance.
Saturday (10/31) New2Lou Halloween Picks - There are too many great party options to only pick one, so we've listed our top picks. Bella Muerte: A Halloween Masquerade Ball, Wes Craven Halloween featuring A Nightmare on Elm Street and Scream, Tony and the Tan Lines Present Thriller, BooLu, Hellhouse with Mix Master Mike and more! And if you need help dressing the part, hit up Caufield's Novelty and they'll hook you up.
Sunday (11/1) Walk of Fame Brunch - Wear your Halloween evening proudly…the morning after. Disheveled princesses, smeared zombies and ripped masks all welcome at this no judgement brunch. Oyster shooters, Bloody Mary's and Corpse Reviver cocktails will be on special starting at 11 am. Plus, Garage Bar is giving out a prize for the best "un-costumed" attendee. Bottoms up!
On the Radar
Wednesday (11/4) Choreographers' Showcase - Get an exclusive first look at new choreography created by and for Louisville Ballet artists in the intimate setting of their Main Street Studios. LIVE MUSIC created and performed by Louisville-based musicians, composers, singers and songwriters Tim Barnes, Kyle James Hauser, Daniel Gilliam and Ben Sollee. Tickets are $25 and space is limited.
Wednesday (11/11) New2Lou 2nd Wed Social - Mark your calendars folks, it's almost time again to get social with the coolest newbies in town. This month we'll be Ward 426, the hip new regionally inspired, distinctly Southern restaurant and bar located on Baxter Avenue. Haven't been there yet? We're here to help (wink). Party starts at 5:30 pm and is FREE w/ RSVP.
Want to share a special event, sponsor one of our events, or advertise with us? Contact us today!