Happy New Year to all of you, who are New2Lou!  Cheers to those who recently moved to Louisville and those who continue to choose Louisville as your home.  We wish you joy and prosperity in the new year and can't wait to hear about all the great things you have planned for this upcoming year.  What are we up to this year?  Two words: more events!  Not only will we continue to host our 2nd Wednesday socials every month, but we are also planning themed events starting with our Bourbon 101 event at the end of this month.  Themes will be focused on things new people need to know about when moving to Louisville:  Bourbon, Horse Racing, Disco Balls, any other suggestions?  Contact us.  We want to hear from you!
What's on the radar this week?  Tons of great events to kick start the New Year.  Have extra energy this week after all that vacation time?  Find more events by clicking on the local calendars on our events page.  And be sure to follow us on Facebook and Twitter for the latest updates.
Wednesday (1/2) Chef Maria's Greek Deli Grand Opening - Chef Maria Bell, formerly of Greek Paradise Café and It's All Greek to Me, is opening a new specialty deli in St. Matthews and the grand opening is tonight from 6-9 pm.  The new location will also feature cooking classes at 4:00 pm every Wednesday. Cost is $10 per person, sounds like a deal to us.
Thursday (1/3) Mayor's Music and Art Series -  free monthly series showcasing local musicians, artists and performers at Mayor's Gallery at historic Louisville Metro Hall.  This month will showcase A Lion Named Roar.  Event is free and open to the public.  Bring your lunch and enjoy live music during your lunch hour.
Thursday (1/3) Louisville Magazine Launch Party - It's a new year and Louisville Magazine is launching a new design.  Celebrate with them at BBC Four Roses Bourbon Barrel Lounge from 5:30 - 7:30 pm. Free apps, drink specials, and complimentary copies of the magazine.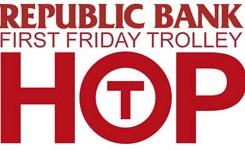 Friday (1/4) First Friday Trolley Hop - free event held downtown on the first Friday of every month. Enjoy live music, beverages and free trolley rides to shops, restaurants and galleries in historic West Main district and trendy NuLu District.
Sunday (1/6) New Year's Recycling Event - St. Andrews Episcopal Church is encouraging you reduce, re-use and recycle in the New Year!  Drop off  your "old stuff" (electronics, cleaners, paint, batteries, packing materials, etc) on Sunday (1/6/13) from 10 AM to 4 PM.  Small fees apply for some items.
Sunday (1/6) Downton Abbey Premiere Party - Season 3 premieres this Sunday and where better to watch it than at the historic Brennan House.  The evening starts at 8 pm with a tour of the 144-year old Victorian mansion followed by tea, cakes and sandwiches.  Dress to impress in your finest period clothing for a chance to win a prize and bragging rights.  Admission is $10 per person.
On the Radar
January 9 New2Lou 2nd Wed Social - Mark your calendars for the first 2nd Wed social on the new year!  Join us for a drink or two, meet some new people and try a new place next Wed (1/9) from 5:30 - 8:30 pm. Free and open to the public,even if you are "Old2Lou".  More details will be posted on our website soon, stay tuned.
January 9 Father John Misty - After you mingle with us at the New2Lou 2nd Wed Social, head on over to  Headliners Music Hall to see  American folk singer and songwriter Father John Misty perform.  Show starts at 9 pm, doors open at 8 pm.  Ticket are $12 in advance and can be purchase here.
January 10 - 12 And Then There Were None - Kids Acting Against Cancer is presenting a modern adaptation of this timeless Agatha Christie murder mystery with 100% of the proceeds being donated to organizations relating to the treatment or research of pediatric cancer.  Purchase your tickets here.
Now - January 13 Diana: A Celebration - Last chance to catch the Princess Diana exhibit in Louisville at the Frazier History Museum.  The exhibit features Diana's royal wedding gown, 28 designer dresses, family heirlooms, personal mementos,  diamond tiaras, priceless jewels and rare home movies.
Have a special event to share in our e-newsletter? Want to sponsor an event or advertise with us? Contact us