Spring has finally arrived, which means the temperatures are heating up and so are the events.  And spring here in Kentucky is horse racing madness!  Keeneland opens this weekend and Derby is right around the corner, Sat (5/3).  You'll start to hear folks say, "Let's schedule something after Derby".  Just go with the flow and get ready to party for a full two weeks leading up to Derby. Festivities kick off with Thunder Over Louisville on Saturday (4/12) and continue with a full suite of Kentucky Derby Festival events .  We'll have more info about Thunder in next weeks e-newsletter so stay tuned.
What's on the radar this week? Plenty of reasons to celebrate the long awaited arrival of Spring! Looking for more events around town? Check out the local calendars on our events page. And be sure to follow us on Facebook and Twitter to stay in the know.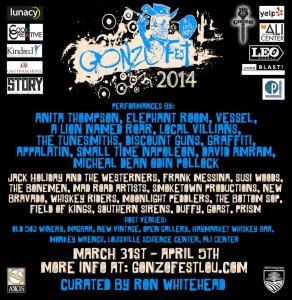 Now - Saturday (4/5) GonzoFest - What is GonzoFest? All kinds of awesome. Six day celebration of all things Hunter S. Thompson. Concerts, spoken word performances; visual art and literary readings at locations around Louisville. Ticket prices range from $5 to $50. Full schedule of events on the website.Want to Volunteer? Email Natalie at natahart@gmail.com for more info.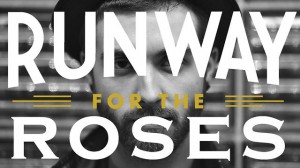 Wednesday (4/2) Runway for the Roses - The Kentucky Derby is right around the corner and you certainly want to dress to impress. Lucky for you, NFocus Magazine is teaming up with Dillard's to showcase this year's hottest trends. Tickets start at $35 and location is at the Mellwood Art Center. 21+ event.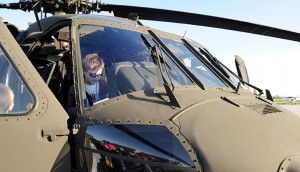 Thursday (4/3) KDF Thunder Preview Party - sneak peek of Thunder Over Louisville at Bowman Field from 5 to 8 pm. There will be planes on display, a Coast Guard exhibit, helicopter rides, a family interactive area, and a pilot meet and greet.  Admission is free with a 2014 Pegasus Pin or McDonald's Thunder Funder cup.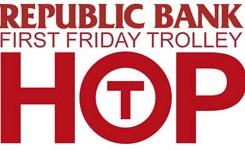 Friday (3/7) First Friday Trolley Hop - free event on the first Friday of every month at the shops, restaurants and galleries in historic West Main district and trendy NuLu District from 5-11 pm.  And this month the brand new Evan Williams Bourbon Experience will be offering complimentary tours during trolley hop. Amazing, right?!?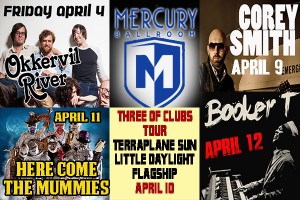 Friday (4/4) Okkervil River - Mercury Ballroom opens this Friday and is kicking things off with Austin  indie rock band Okkervil River! And they have a ton of great concerts in the pipeline: Corey Smith on April 9, Here Come The Mummies on April 11 &  Booker T Jones on April 12 to name a few. Stay tuned for ticket giveaway info on our Facebook page!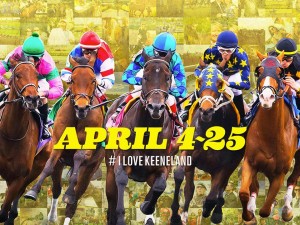 Friday (4/4) - Friday (4/25) Keeneland Spring Meet - Spring is a big season here in Kentucky, it's horse racing season!  Keeneland kicks off spring racing season this weekend, only a short drive from Louisville (~70 miles) and so worth the drive. Surrounded by horse farms, it looks like something straight out of a dream or KY tourism magazine.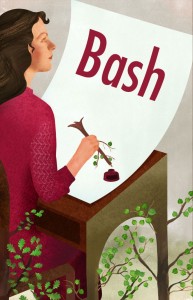 Saturday (4/5) Humana Festival Bash - Join Actors Theatre as they celebrate the closing of the 38th Humana Festival and their 50th Anniversary Season with a full on street party! They are shutting down Main Street for an outdoor concert featuring the Junk Yard Dogs and Whistlin' Rufus will keep the party going indoors! Free and open to the public.
On the Radar
Wednesday (4/9) New2Lou Social at Garage Bar - It's time again to socialize with Louisville's finest newbies!  This month we're heading back to one of our favs, Garage Bar in trendy NuLu.  We'll be mingling outside on the patio and we'll have a sweet putt-putt course. Yep, our socials are that cool. Free and open to the public. RSVP today!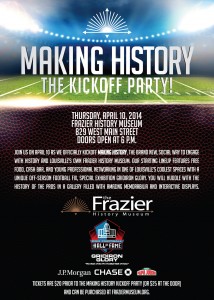 Thursday (4/10) Making History: The Kickoff Party - official kickoff of Making History, the brand new, social way to engage with the Frazier History Museum. The starting lineup features free food, cash bar, and young professional networking in one of Louisville's coolest spaces with a unique off-season football fix, special exhibition Gridiron Glory. Tickets are $20 in advance, $25 at the door.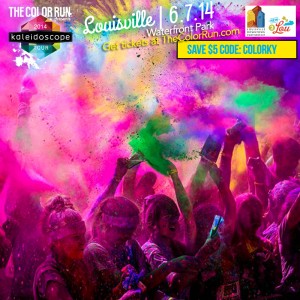 Saturday (6/7) Color Run - Mark your calendars folks! The Color Run is coming to Louisville and we are a partner! What does that mean for you? Discounts for New2Lou participants and awesome volunteer opportunities. Register (Promo Code: COLORKY) and sign up to volunteer today! And don't worries, you can do both, so twice the fun!
Want to share a special event, sponsor one our our awesome socials or advertise with us? Contact us