So remember when we said last week there were so many events you may find yourself double booked? Well, it's even crazier the next two weeks. You can feel the excitement of Kentucky Derby in the air and soon our fine city will have the world's attention. And lucky you, you'll be right here in the middle of all the action.
So what's on the radar this week? Bourbon, Buy-A-Date, and Betting! We've hand picked the best of the best just for you, who are New2Lou. Looking for more events around town? Check out the local calendars on our events page and give us a follow on Facebook and Twitter, you'll be happy you did. And stay tuned for our Derby post, filled with tons of great not-so-newbie tips.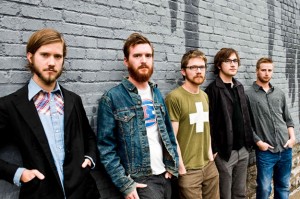 Wednesday (4/23) WFPK Waterfront Wednesday - Waterfront Wednesday is officially back! You know what that means, summer is almost here! Enjoy live music on the Waterfront for FREE, thanks to the fine folks at WFPK and Waterfront Park. Featured artists this month are Moon Taxi, The Apache Relay, and House Ghost. Music starts at 6 pm.
Thursday (4/24) BUY-A-DATE…help save a life - Have your pick of some of Louisville's finest arm candy this Thursday night at Nowhere Bar. A selection of bachelors and bachelorettes will be available to the highest bidder. Event starts at 8pm with live date auction at 9:30pm. Proceeds will benefit the Leukemia & Lymphoma Society.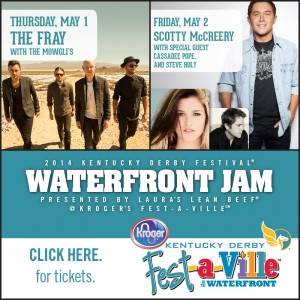 Thursday (4/24) - Friday (5/2) KDF Kroger's Fest-a-Ville Concert Series - Annual concert series on the Waterfront organized by the fine folks at Kentucky Derby Festival.  Admission to most shows are free with a Pegasus Pin. Tickets for the Waterfront Jam headliners The Fray and Scotty McCreery are $32.50. Purchase tickets and view the full lineup on the KDF website.
Friday (4/25) Soul in the Cellar with the JYDs - Slow it down and replenish your soul this Friday night in the cellar of Decca Restaurant. Enjoy the soothing soul music by local musicians Junk Yard Dogs. Free and open to the public. Music starts at 10, but we recommend getting there early to grab a drink and a seat. Cheers!
Saturday (4/26) Girls IdeaFestival - Louisville Girls Leadership presents its second Girls IdeaFestival targeting specifically high school girls, the adults in their lives. The goal is to develop creative and innovative solutions to challenges girls face today. The event will focus particularly on creating ideas to counter longstanding issues. Registration is $5. #girlpower
Saturday (4/26) Opening Night at Churchill Downs - You best brush up on your horse betting skills before the big day next Saturday. Night Racing at Churchill Downs officially kicks off this Saturday from 4-11:30 pm and tickets are only $10! And you'll be one of the first folks to see the brand new, world's largest Mega Video Board. Cool, right?!?
Sunday (4/27) Tour De Lou - The Kentucky Derby Festival is partnering with Louisville Bicycle Club to kick off the first Tour de Lou this Sunday.  The bike event is for all ages and all levels of experience. The Tour de Lou route will be an open course, which will start and finish at Waterfront Park. Register here.
On the Radar
Tuesday (4/29) Kentucky Bourbon Tasting Experience – Entertaining folks in town for Derby and want to give them a true taste of Kentucky? Join the Filson Historical Society for a Premium Bourbon Tasting and Cocktail Party. Tickets are pricy at $200, but you'll taste a selection of some of the finest KY Bourbons and 21C's culinary treats.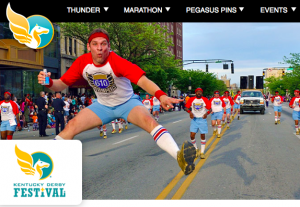 Thursday (5/1) Republic Bank Pegasus Parade - Annual Derby Tradition since 1956. The Pegasus Parade will march west on Broadway for 17 blocks and the theme is "Call Of The Wild". The parade starts at 5 pm and showcases some of the nation's finest marching bands and equestrian units, inflatable characters, and colorful floats. Free and open to the public.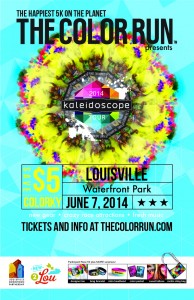 Saturday (6/7) Color Run - Mark your calendars folks! The Color Run is coming to Louisville and we are a partner! What does that mean for you? Discounts for New2Lou participants and awesome volunteer opportunities. Register (Promo Code: COLORKY) and sign up to volunteer today! And don't worry, you can do both, so twice the fun!
Want to share a special event, sponsor one our our awesome socials, or advertise with us? Contact us